Alicia Keys Clive Davis Pre-Grammy Party Pictures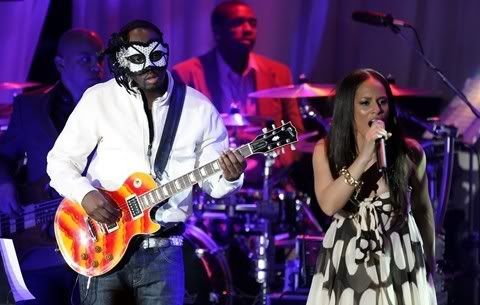 Alicia Keys and Wyclef Jean were photographed as they performed at the Clive Davis Pre-Grammy Party in Beverly Hills last night.Alicia Keys has many reasons to be happy because her album "As I Am" is back at at No. 1 despite being out for 11 weeks now.This is Keys twelfth week to take the no. 1 spot on the Billboard 200 thanks to the fact that she sold 61,000 copies last week.Another reason for her to celebrate is the fact that she will soon go triple platinum seeing that has already sold 2,907,500 albums.
Mary J. Blige, dropped to no. 6 this week with 47,200 copies of Growing Pains and at t no. 8 we find Keyshia Cole's Just Like You, pushing 36,400 copies after 19 weeks and three singles and Chris Brown came in at no. 11 with 33,000 copies sold of Exclusive.